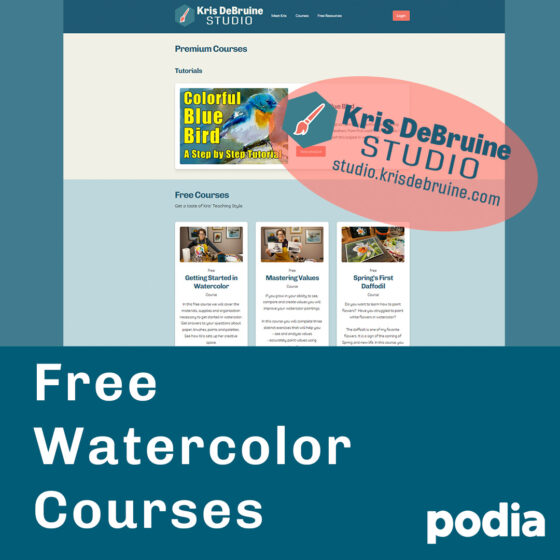 More and more students have been signing up for my free and premium online watercolor courses. My most popular course is called Getting Started in Watercolor. It is the perfect place to start if you are completely new to watercolor and need guidance and recommendations for choosing supplies, including paper, paints, brushes and palettes.
More Kris DeBruine Studio Courses
My Mastering Values course establishes the importance of getting the values right in your paintings. Several practical exercises and tutorials gives students the opportunity to practice identifying and creating accurate values in watercolor. This course is a great foundation for students new to watercolor or painting in general.
Several other courses provide step-by-step tutorials in painting specific subjects, such as flowers and birds. Each course features video instruction, digital downloads, reference images and skill-building lessons and exercises.
Building a Business with Podia
Thanks to Podia for helping me grow this online watercolor studio. They make it super easy to build my website, manage my email lists, send my regular email newsletter and promote a growing list of digital products.
When I was looking around at all the choices for hosting and building my online business, Podia definitely offered the most features at the best price. If you would like to give it a "test drive"…you can even start by building your website for free.

Grow in Watercolor | Take a Class
If you want to grow in watercolor, the best investment you can make is in an online course, face to face class or workshop. A well-designed class helps you cut through the confusion and benefit from a focused curriculum. You receive feedback from an experienced instructor and you can learn from fellow students.